W940-H 'A' Frame bottom loading arms for chemical/industrial products are ideal for loading/unloading tank trucks and rail cars. 'A' Frame loading/unloading arms are best suited for narrow lanes or where servicing both sides of the lane is required. For tank trucks, 'A' Frame bottom loading/unloading arms can also service the rear of the vehicle.
W940-H has a flexible drop hose and a 90° Style-30 Outboard swivel joint with handle at the outboard end.
Outboard connections are typically dry-beak coupler, hammer union or cam and groove coupler to suit the application. Breakaway couplings and purge systems can be incorporated as required.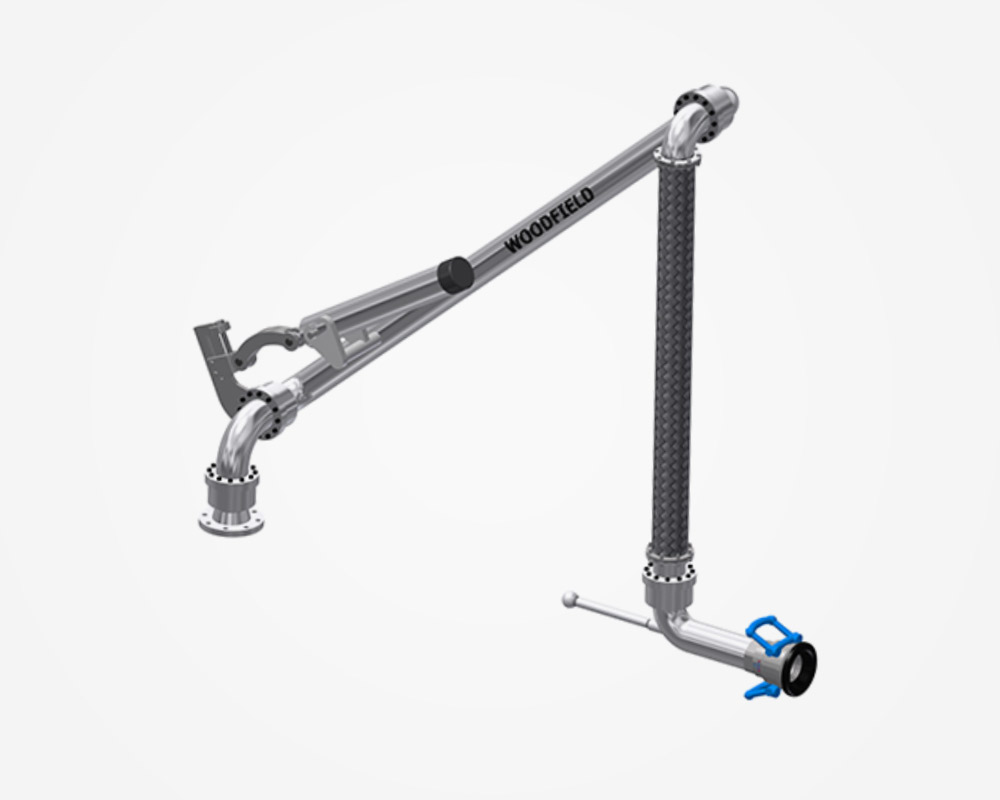 Sizes in 2", 3", 4" and 6".
Materials of construction: Carbon steels, aluminum, 304L, 316L and 904L stainless steel. Exotic alloys, Duplex Stainless Steel, Super Duplex Stainless Steel, Alloy 20, Monel, Inconel and more.
Dual race Split Flange WL2 or Single race WSS swivel joints
Seals in Viton™, Nitrile, EPDM, PTFE, Kalrez™ etc. to suit the application
Compression spring, counterweight, pneumatic or hydraulic balance control systems
Available in Left Hand or Right Hand, Up-feed or Down-feed and Side-feed configurations
Typical range of vertical movement is +60°/+30°
Typical primary length of 1,500mm. Drop hose of 1,800mm with Style-30 swivel joint and handle at the outboard end.
All dimensions can be changed to suit each application.
See Chemical and Industrial Loading Arm Options tab for additional optional equipment
See "Heated Loading/Unloading Arms" tab. All loading arm configurations can be heated and insulated